Our contact lenses
Ready to flaunt those curves? At Dimple we pride ourselves on making quality lenses of the highest global standard, right here in Australia. Our partner has been manufacturing contact lenses from a state-of-the-art facility for almost 50 years.

Dimple makes the daily contacts you deserve. You won't want to take your eyes off us.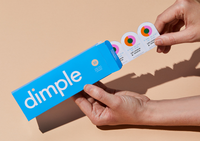 Wear daily
Our contacts are daily disposables lenses. This means less fuss, less germs, and more time to do the things you love.

All-day comfort
Each Dimple contact floats in our BioMoist formula, which mimics the eye's natural tear film and keeps your eyes clean and comfortable all day long.

UV protection
Our eyes can be sensitive to UV rays, so all Dimple dailies contain UV protection to help guard you from harmful radiation.

Recyclable packaging
Perfect vision shouldn't come at a cost to the environment. We try to keep packaging to a minimum and use recyclable materials wherever we can. Find out more.

Superior​ design technology
Our Radial Edge technology creates a uniform thinness that means you can see clearly and comfortably every day.

High water content
Dimple lenses are made from 43% Methafilcon B and 57% water. This keeps your eyes feeling fresh, happy and hydrated.

Made in Australia
Our manufacturing partner makes Dimple dailies to the highest global standard, right here at home. Our lenses are certified for sale in Australia, Europe and the United States.
High quality contacts, made locally.